Hello, I am starting an IoT project and I am currently using a hologram Simcard and a SIM800L module. I am having some trouble getting started as I haven't been able to get my Simcard to connect to the network. I already activated it in the hologram dashboard, when I try to use it with my SIM800L using AT commands I can find that the module can detect a cellular network but I cannot connect to it.
Here is a copy of what I am seeing: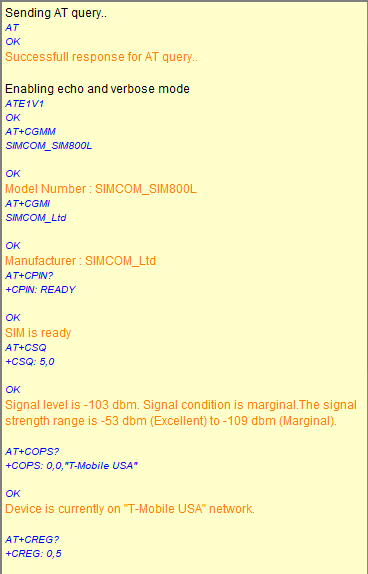 I was only able to upload one image, here is the rest of the log:
Sending AT query…
AT
OK
Successfull response for AT query…
Enabling echo and verbose mode
ATE1V1
OK
AT+CGMM
SIMCOM_SIM800L
OK
Model Number : SIMCOM_SIM800L
AT+CGMI
SIMCOM_Ltd
OK
Manufacturer : SIMCOM_Ltd
AT+CPIN?
+CPIN: READY
OK
SIM is ready
AT+CSQ
+CSQ: 5,0
OK
Signal level is -103 dbm. Signal condition is marginal.The signal strength range is -53 dbm (Excellent) to -109 dbm (Marginal).
AT+COPS?
+COPS: 0,0,"T-Mobile USA"
OK
Device is currently on "T-Mobile USA" network.
AT+CREG?
+CREG: 0,5
OK
AT+CGATT?
+CGATT: 1
OK
Device is attached to the network
AT+CGACT?
+CGACT: 1,0
+CGACT: 2,0
+CGACT: 3,0
OK
Device is NOT connected.
AT+CGACT?
+CGACT: 1,0
+CGACT: 2,0
+CGACT: 3,0
OK
Device is NOT connected, so no IP address is available.
Please let me know if you need any additional information, I appreciate your help!!!